March 19, 2021
What You Need to Know About Colorectal Cancer & Screening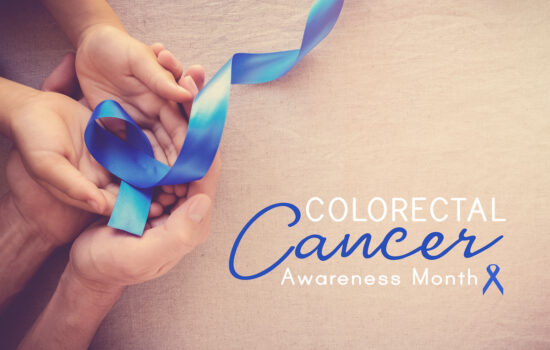 In 2000 President Clinton declared March as Colorectal Cancer Awareness Month (also known as Colon Cancer Awareness Month). Since then, every year, we set aside this time to raise awareness about colorectal cancer and encourage you to get screened. As we wear blue and host fundraisers, we also want to be sure that we highlight just how important it is to have early detection so that you can receive the best care possible.
Sometimes people may put off colorectal cancer screenings because they can be somewhat uncomfortable and require a bit of prep. However, there are some changes in the medical industry. For instance, now, a tablet may be offered for colonoscopy prep instead of the bad-tasting liquid. Also, doctors are encouraging stool samples as an initial screening before a colonoscopy. These small changes have significantly increased people's willingness to participate in screenings, and this is the type of information that you should know about.
When Should You Get a Colorectal Cancer Screening?
Colorectal cancer screenings are very important. However, you may not know when you should start getting your screenings. As a general recommendation, The American Cancer Society indicates that if you are in overall good health, then you should get a colorectal cancer screen once every five to ten years once you reach the age of 45. In high-risk situations, your doctor may suggest that you get screened more often. You may be high risk if you fall into one of the following categories:

Family history of colorectal cancer
Family history of polyps
Inflammatory bowel condition (Crohn's disease)
Inherited syndrome such as Lynch Syndrome
Type 2 diabetes
Smoking
Alcohol use
Obesity
If you have one of the risk factors listed here, then you should discuss your screening schedule with your doctor. You may need to start your screenings at a younger age and get them more often than the average recommendation.
RELATED READ:
When You Should Start Colon Cancer Screening
Types of Colorectal Cancer Screenings

There are multiple types of colorectal cancer screening options. Your doctor may recommend:

Colonoscopy: This screening uses a camera to explore the large and small bowel to identify any sign of colon cancer or polyps.
Sigmoidoscopy: Similar to a colonoscopy, but focuses more on the lower part of the large intestine.
Double-contrast barium enema: An x-ray is taken of the colon and rectum using two forms of contrast to better see the area.
Virtual colonoscopy (CT colonoscopy): Use of CT scanning or magnetic resonance imaging to produce two- and three-dimensional images of the colon, rectum, and small intestine
Fecal occult blood test: This is a type of lab test that examines fecal matter to see if there is any blood present.
DNA stool tests: This is a lab test that identifies any changes in the cells of a stool sample.
Your doctor will identify which screening is best for you based on your specific situation.

COVID-19 Impacts on Colorectal Cancer Screening

While colorectal cancer screenings have always been important, it's especially true right now. In 2020, COVID-19 had a significant impact on the entire world. Unfortunately, as people needed to socially distance themselves, many screenings were canceled or missed. If you weren't able to get your previously scheduled screening, then you should definitely make an appointment to get yours done this year. Prioritize your health because early detection can make all of the difference.

The Importance of Early Detection
It is best to detect colon cancer as soon as possible. Getting your screening can work as a prevention against cancer because many of the colorectal cancer screenings identify precancerous polyps. Your oncologist can then remove the polyps before they develop into full-blown cancer.

Doing so makes it easier for your oncologist to create a customized treatment plan while the cancer is smaller and more contained in one area. The larger and more advanced your cancer is, the more invasive the treatment will have to be. You also increase your chances for survival.
How to Raise Awareness
Becoming a colorectal cancer advocate goes a long way toward educating others about the disease and encouraging people to get their screenings. If you're curious about how you can become part of the fight against cancer, here are a few ideas:

Wear blue in support of the colorectal cancer awareness cause
Donate to a fundraiser
Host a fundraiser
Start a conversation with friends and family members about screenings
Get your own screening scheduled
Raising awareness is the first step toward action. People may be tempted to put off colorectal cancer screenings, but it's important that we discuss the advantages and normalize the importance of doing it. You can become part of the solution by celebrating colorectal cancer awareness month and encouraging others that you know to do the same. This is a time to focus on your health and ensure that you and your loved ones are being proactive in the battle against colorectal cancer.
Colorectal Cancer Care in Brevard County
If you or a loved one received a diagnosis of colorectal cancer, the specialists at Cancer Care Centers of Brevard are here to help. Our oncologists offer the latest treatment options for colon and rectal cancers, including clinical trials. We also offer second opinions on diagnosis and treatment plans. Our cancer centers are located throughout Brevard County, including Palm Bay, Melbourne, Merrit Island, and Rockledge, FL.
Categories: Colorectal Cancer