June 3, 2022
Ways to Reduce Your Breast Cancer Risk When You're BRCA Mutation-Positive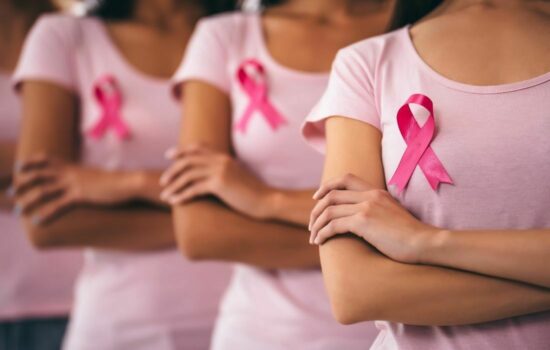 If you carry a BRCA gene mutation, your risk of developing cancer is higher than that of an average person. It's important to remember that testing positive for one of these mutations does not mean you will definitely develop cancer. Though this inherited gene mutation is closely tied to a few different types of cancer, there are some steps you can take to lower your risk.
Options for Reducing Cancer Risk after Testing Positive for a BRCA Gene Mutation
If you have a BRCA gene mutation, you may be wondering what you should do, if anything, to help reduce your risk of breast cancer or ovarian cancer in your lifetime.
Here are five ways to reduce your breast cancer or ovarian cancer risk if you're BRCA mutation-positive.

Start screening for cancer earlier and do it more often

Preventive breast removal surgery (preventive mastectomy)

Ovary removal surgery (oophorectomy)

Chemoprevention medicine

Healthy lifestyle choices
1. Screening for Breast Cancer and Ovarian Cancer More Often
Women who carry a BRCA gene mutation may want to get screened more frequently, earlier, and with a broader variety of screening than other women. While this doesn't specifically reduce the risk of developing breast or ovarian cancer, it does make any cancer that develops easier to treat in its earlier stages.
If this applies to you, talk to your doctor – most likely a gynecologist or primary care provider – about screening options, what age to begin testing, and how often they should be tested. If you learn at a young age that you carry the BRCA gene mutation, you might start breast cancer screening as early as age 25 or as soon as possible if you find out after age 25.
There is no regular ovarian cancer screening test available to women right now. However, there are some blood tests that doctors can run including the CA-125 to look for signs that ovarian cancer may be developing. Because there are several non-cancerous conditions that can also increase the level of CA-125 in the blood this is not used for women of average risk for ovarian cancer.
Screening tests are used to look for diseases or health conditions in people who aren't sick. For additional information about breast cancer screenings, take a look at our cancer screening guide video.

2. Preventive Mastectomy
If you have a strong family history of breast cancer, you can discuss a preventive mastectomy with your doctor. This means that you'll undergo surgery to remove the breasts, even if they appear healthy. The idea is that removing your breasts before any abnormalities are present will reduce your risk of developing breast cancer later on. Although, it is important to note that a preventive mastectomy does not completely eliminate the risk of developing breast cancer. After a mastectomy, reconstruction is an option. There are multiple types of reconstruction that you might want to consider, including the use of implants or rebuilding your breasts with your own fat stores.
There are a number of other surgical options available for women who choose to have a double mastectomy, including nipple-sparing and skin-sparing procedures. These allow you to keep as much natural tissue as possible and help preserve shape and symmetry in your chest area. You should discuss with your doctor and the breast surgeon to understand options, recovery, and what life would be like after surgery.
3. Preventive Oophorectomy
If you have a high risk of breast or ovarian cancer, your physician may recommend that you undergo a preventive oophorectomy (ovary removal) at some point in your lifetime. During an oophorectomy, the surgeon removes an ovary and fallopian tube on one side of the body, followed by the ovary and fallopian tube on the other.
This is done as a form of preventative treatment for two reasons. First, ovaries will produce estrogen, increasing your breast cancer risk. Second, a fallopian tube may still be able to carry an egg and therefore present a risk of ovarian cancer. For women who have undergone a surgery where both ovaries are removed, doctors typically recommend that they take hormone replacement therapy (HRT) to avoid menopause symptoms like hot flashes and night sweats.
4. Chemoprevention
Selective Estrogen Receptor Modulators (SERMs) are a medication that blocks estrogen from attaching to breast tissue. SERMs are used for various things, including helping prevent breast cancer in high-risk patients and treating estrogen receptor-positive breast cancer in postmenopausal women.
This is a non-surgical option for lowering risk of developing breast cancer in women who are known carriers of the BRCA gene. This medication works by blocking estrogen from attaching to cells in breast tissue, reducing your risk of developing breast cancer. However, there are side effects to this medication that should be discussed with your doctor. Additionally, chemoprevention does not prove to be as effective as preventive mastectomy in lowering the occurrence of breast cancer in BRCA-positive patients.

5. Healthy Lifestyle Choices for Cancer Risk Reduction
Healthy habits, such as daily exercise and eating a nutritious diet, can go a long way toward reducing your cancer risk. Exercise helps lower insulin levels, reduce estrogen, testosterone, and growth hormone levels, and promotes a better night's sleep. It also helps you manage stress, which is linked to breast cancer risk. Eating a plant-based diet rich in fruits and vegetables will help control inflammation in your body.
Be sure that you are getting enough of certain nutrients such as vitamin D, selenium, and calcium, which help lower the risk of cancer. To make sure you're getting enough of these nutrients, include plenty of whole grains, dark leafy greens, nuts, and seeds in your diet.

Genetic Testing for BRCA Gene Mutations in Brevard County
If you or an immediate family member has been newly diagnosed with breast cancer of any type, genetic testing for the BRCA gene mutation may be performed by a genetics professional through the cancer center. The results of the test can not only help guide the breast cancer treatment process, but it allows family members to be informed — one way or the other — so they can make decisions that are best for them.
Even if you're already diagnosed with hereditary breast cancer, you can still take some steps to reduce your risk of developing ovarian cancer in the future (and vice versa). Talk with your doctor to see if there are any preventive steps you can consider.
Cancer Care Centers of Brevard is here to help breast cancer patients and their families. Our genetic testing services can help determine your risk and what steps you might want to take to lower your risk of developing breast or ovarian cancer.
Categories: Breast Cancer